Decoli at China Optical Expo 2018
---
On September 7 , 2018 , the China International Optoelectronics Expo opened in Shenzhen. The booth number of Dekeli Optoelectronics: 1C50 . Many visitors at the exhibition site stopped at our booth and visited our new exhibits, including various optical fiber amplifiers and subsystems. Products, optical modules, optical devices and a full range of 100G , 400G products and 200G CFP2 PAM4 demonstration systems.
Dekeli displayed a full range of optical module products at this optical expo, from 100M to 400G , as well as a dynamic demonstration of 200G CFP2 PAM4 . This product can support LANWDM4 10km transmission using a single module fiber. With the application of PAM4 technology, the module can achieve a single-channel 53.125Gbps transmission rate, and the design based on low power consumption enables the module to achieve stable operation at 0-70 ° C. This product will be widely used in 200G Ethernet and 5G wireless transmission.
This time at the Optical Expo, Wuxi Dekeli demonstrated a brand new brand image and technical strength.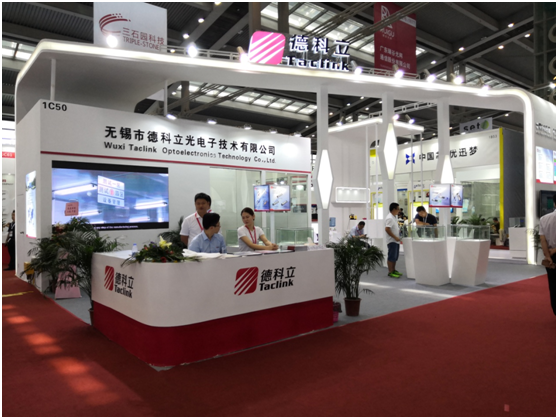 ---
Wuxi Taclink Optoelectronics Technology Co., Ltd.
Helpline:
E-mail:
Company address:
Block 93-C, Science&Tech. Industry Park, Xinwu District, Wuxi, Jiangsu, PRC
---
©2023 Wuxi Taclink Optoelectronics Technology Co., Ltd.