Data Acquisition Solution
---
With the development of Internet industry, Internet security management is facing unprecedented challenges. At the same time, cloud services based on big data are more prominent for data collection and analysis. For big data analysis and network security monitoring, Taclink has launched a complete solution to provide safe, stable and low-latency data for back-end equipment.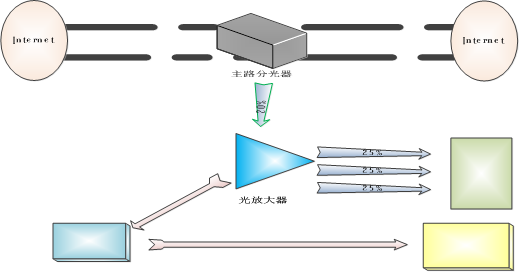 Data acquisition and analysis system
Data acquisition and analysis system:
1) Splitter is a passive device which splits the optical signal e.g. for monitoring purpose. The splitting ratio is optimized to insure sufficient power of the main signal.
2) The system is designed with appropriate optical amplifier, splitter, filter and data acquisition distribution equipment to realize full data rate coverage (including: single mode or multimode transmission, optical signals at 155M / 622M, 2.5GE, 10GE, 40GE, 100GE or other date rates).
3) Product Integration:
Taclink can provide rack mounted types (1U/2U/5U) integrating optical splitter, optical amplifier etc., which can be configured according to customers requirements. One single product can support upward and down-ward totally 20*100GE optical signal amplification, or totally 90*10GE optical signal amplification.
6U rack mounted equipment (6 functional slots), single unit can support 32*10GE or 20*100GE link flow collection, analysis, filtering and transmission, and support load balancing.
At the same time, our data collection and analysis system can realize remote DWDM optical signal monitoring and acquisition, with DWDM transmission technology to amplify signal and transmit to the remote equipment site, collect and analysis data, can save cost and meet special application needs.
---
Wuxi Taclink Optoelectronics Technology Co., Ltd.
Helpline:
E-mail:
Company address:
Block 93-C, Science&Tech. Industry Park, Xinwu District, Wuxi, Jiangsu, PRC
---
©2023 Wuxi Taclink Optoelectronics Technology Co., Ltd.