FTTH solutions
---
Aiming at market demands, Taclink provides complete FTTX solutions and different product series. The system can be optimized according to the actual needs of different requirements.
Solution introduction:
(1) CATV front-end: 1550nm optical transmitter with special technology combined with an optical amplifier can effectively improve the output power of the transmitter and extend the transmission distance;
(2) Front-end equipment: Video combiner by high-power double-cladding erbium-Ytterbium co-doped amplification technology, passive PON combining technology and OLT equipment to support multi-service bidirectional single-fiber transmission and save fiber resources;
(3) Client side: 100M/1000M ONU device which supports Internet, telephone, and cable TV services.
Features:
1)The schematic diagram of the solution is CATV+PON system. The overall solution can be flexibly customized according to user needs, including EOC+PON system, WDM-PON system, etc.
2)Multi-service bidirectional single-fiber transmission without additional equipment;
3)Meet various access requirements such as voice, HD IPTV, CATV and dedicated line;
4)Fiber to the home, through EPON/GPON technology can achieve 1000M to the home.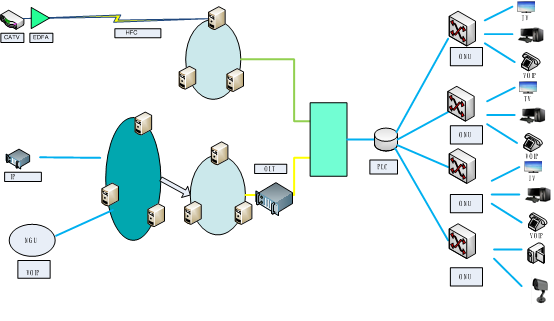 Diagram of FTTH solution
---
Wuxi Taclink Optoelectronics Technology Co., Ltd.
Helpline:
E-mail:
Company address:
Block 93-C, Science&Tech. Industry Park, Xinwu District, Wuxi, Jiangsu, PRC
---
©2023 Wuxi Taclink Optoelectronics Technology Co., Ltd.